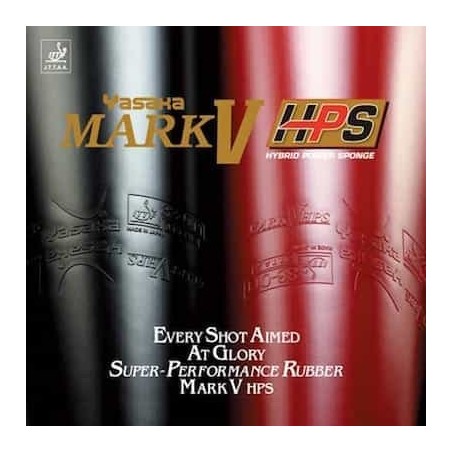 
YASAKA MARK V HPS
MARK V HPS IS THE RESULT OF A COMPLETELY NEW FORMULA FOR THE SPONGE COMBINED WITH THE TOP SHEET OF MARK V.
Description
Mark V HPS is the result of a completely new formula for the sponge combined with the top sheet of MARK V.
The HPS technology gives: improved dynamics in the sponge more speed and spin, without higher weight
Yasaka MARK V HPS is a top of the range fast table tennis rubber and gives you all the characteristics required for advanced offensive play.
The sponge is a medium hard sponge, suitable for aggressive play close to the table.
Customers who bought this product also bought:
A MODEL THAT MIXES THE TACTILE SENSE OF 5 PLYWOOD AND THE DOODNESS OF OPERABILITY.
10 other products in the same category:
ORIGINAL SOFT RUBBER IS THE ORIGINAL BACK SOFT RUBBER WITH A GOOD SPEED AND SPEEN WITH OUTSTANDING STABILITY AND BALANCE.
YASAKA RAKZA 7 IS THE NEWLY DEVELOPED RUBBER BY YASAKA, USING MAINLY NATURAL RUBBER GUM FOR THE TOP SHEET.
PLAXON AN ABSOLUTE NEW RUBBER GENERATION: A COMPACT, ENERGIZED SPONGE COMNED WITH A TOPSHEET THAT OPTIMALLY REACTS ESPECIALLY WITH THE NEW PLASTIC BALL.
COMBINATION OF STICKY SURFACE TOP SHEET WITH EXTREMELY HARD SPONGE HAS BEEN A KEY WEAPON FOR CHINA TO DOMINATE THE MODERN TABLE TENNIS WORLD.
THE WAVE OF THESE LONGEST (AND LEGAL) JAPANESE LONG PIPS AT BAT AND BALL CONTACT, IS SIMILAR TO WAVING GRASS IN THE WIND.
IN THE DYNARYZ SERIES, THE COMBINATION OF THE NEWLY DEVELOPED NEXT GENERATION HYPER BOUNCE SPONGE AND THE TOP SHEET THAT USES ADVANCED SURFACE TRACTION TECHNOLOGY
Back to top 