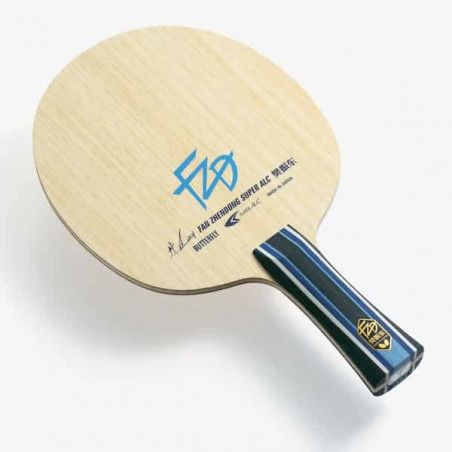 
BUTTERFLY FAN ZHENDONG SUPER ALC
BOTH SUPPLENESS AND HIGH MOMENTUM. EQUIPPED WITH SUPER ARYLATE CARBON.
Description
Equipped with "Super Arylate Carbon" that achieves higher momentum while maintaining the flexibility of Arylate Carbon.
The repulsion characteristics have been enhanced with almost the same vibration characteristics as "Fan Zhento ALC".
The overall design is based on the image of an athlete challenging a battle and a lightning-fast attack, and the straight line is used for the grip to express Fan Zhendong's posture as he continues to move toward his goal.
offensive shake
◆ Blade size: 157 × 150 mm (regular)
◆ Grip size:
FL: 100×25×34mm
ST: 100×23×28mm
◆Blade thickness: 5.7mm
◆Plywood configuration: 5 plywood + super arylate carbon
◆ Rebound characteristics: 12.1
◆ Vibration characteristics: 10.1
◆ Average weight: 89g
◆Country of origin: Japan
Customers who bought this product also bought:
LEZOLINE VILIGHT - LIGHTWEIGHT MODEL THAT SUPPORTS QUICK AND ACCURATE MOVEMENTS.
10 other products in the same category:
MA LIN EXTRA OFFENSIVE IS A FAST 5 PLY BLADE DEVELOPED IN COOPERATION WITH MA LIN.
PLYWOOD CONFIGURATION USED BY FAN ZHENDONG AND MANY TOP PLAYERS AROUND THE WORLD.
ATTACK FROM THE BENCH WITH ABUNDANT ROTATION AMOUNG AND STABILITY.
HINOKI VENEER MODEL RECOMMENDED FOR PLAYERS OF A WIDE RANGE OF LEVELS.
Back to top 